This decadent lemon blueberry tart is a delicious lemon curd filling that is paired with a flakey crust and topped with a blueberry compote and chantilly cream. The ultimate lemon tart is the ultimate pastry.
Sweet, tangy, creamy and bursting with flavor. This buttery crust is going to amaze you at how incredible this dessert is. Learn how to make this homemade tart in no time.
This Lemon Blueberry Tart Is…
Made from Scratch
Homemade Lemon Curd
Sweet and Tart
Elegant Display
Ingredients Needed
All Purpose Flour
Butter
Powdered Sugar
Salt
Egg
Lemon Zest
Lemon Juice
Gelatin Sheet
Heavy Cream
Powdered Sugar
Blueberries
Pectin
How to Make
Shortcrust Pastry
Preheat the oven as directed. Then in a stand mixer with a paddle, mix up the dry ingredients and then work in the cold butter.
Add in the eggs and yolks, mixing to combine. Make sure to not overmix.
Roll your dough out as directed, and chill until ready to bake.
Form in pan and bake until golden brown in color.
Pro Tip: Learn how to line and bake a tart shell with success!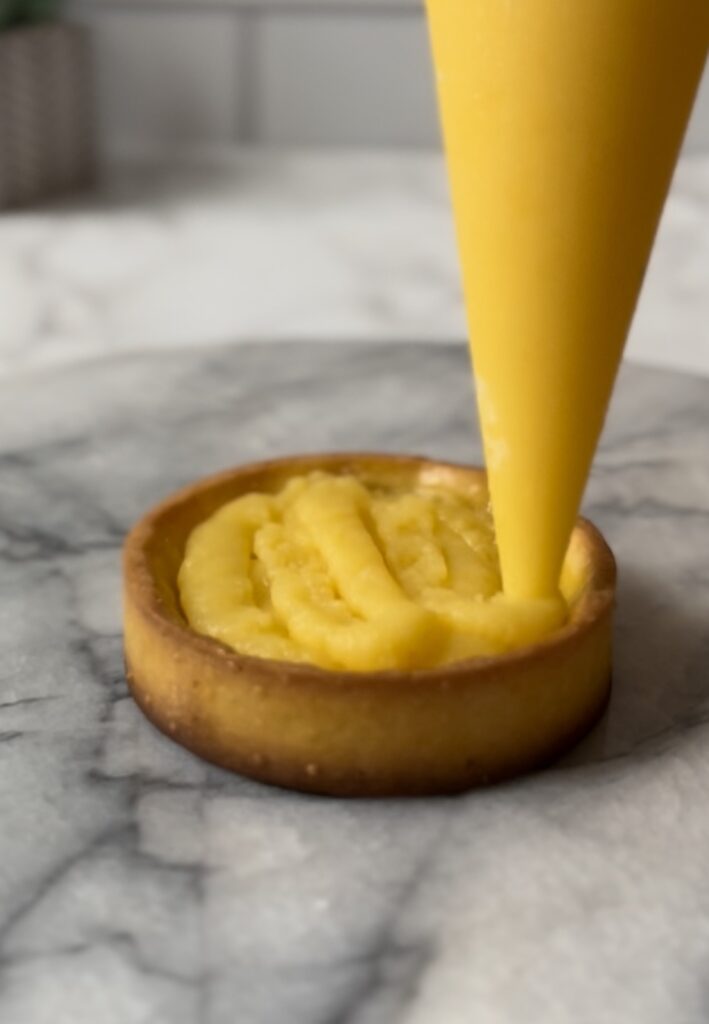 Lemon Curd
Heat up your lemon juice, a portion of sugar, zest and salt.
Then in a bowl whisk your eggs and the other part of sugar. Whisk until it was a light ribbon consistency.
Now slowly whisk in the eggs into the saucepan. You want to heat to 84 degrees F.
Strain over the butter, and add gelatin sheets, and you want the temperature to be 150 degrees F.
Cool and allow to set.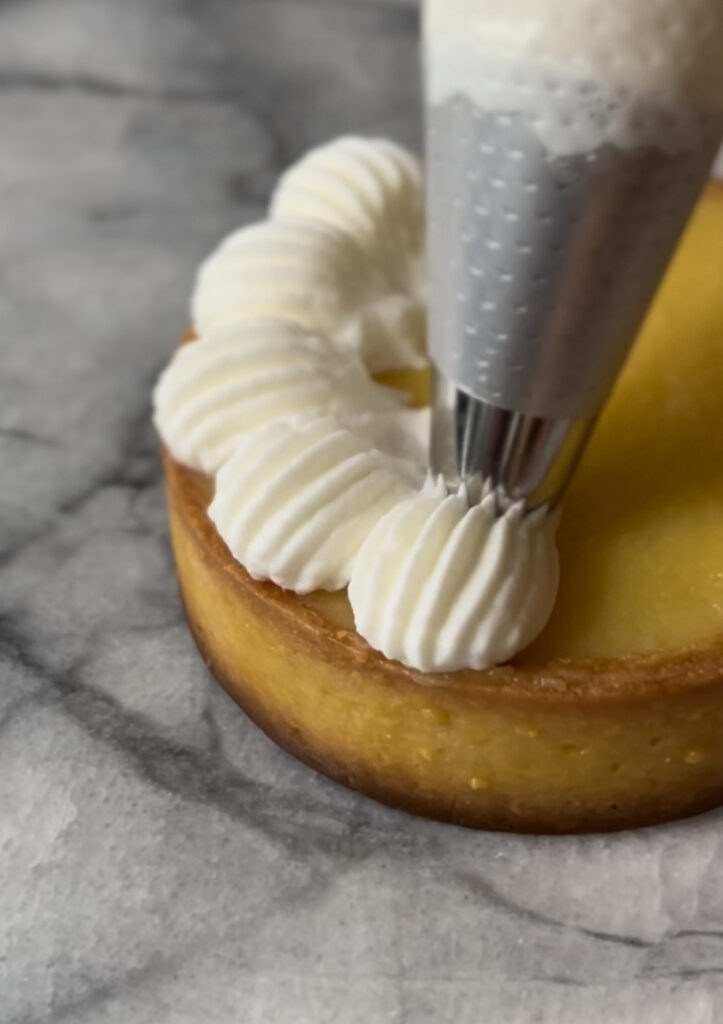 Chantilly Cream
Place your cold heavy cream in a stand mixer. You will want to whip until it is soft peaks. Then add in sugar and mix to medium-firm peaks.
Blueberry Compote
In a new saucepan you will cook the blueberries with lemon juice. Make sure to crush the berries to release the juice.
Mix in the sugar and pectin in a container.
Once the fruit is boiling add in the sugar and pectin, mixing with a spatula. Then add in the salt.
Mix until it begins to thicken.
Storing
Refrigerate – You will want to refrigerate your tarts until you are ready to serve them. I find these are best served fresh once they are fully set up and assembled. The tarts will store for around 3-5 days in the fridge.
Freezing – You can freeze any tarts, just know the texture will change slightly once it thaws. Place in a freezer friendly container and freeze for 1-2 months. Then thaw the lemon blueberry tart in the fridge overnight before you serve it up.
Variations and Tips
Feel free to use a different type of fruit like raspberries, strawberries, or even a blackberry. Cook the same as the blueberries.
Feel free to use a classic whipped cream for piping on the fruit tart, if you don't want to make the Chantilly cream.
Freezing your bowl before you mix up the cream it will help speed up the prep time on getting it to thicker cream.
Remove the pie crust once it turns golden brown. Don't overbake or it will dry out the crust.
FAQs
What is lemon curd made of?
Lemon curd is made with fresh lemon juice and zest, sugar, and eggs and gelatin. This is a thick and creamy pudding-like texture that is bursting with vibrant lemon flavor.
Should lemon curd tart be refrigerated?
Lemon curd does need to be refrigerated. Make sure to place it in an airtight container and store in the fridge for up to 3-4 days.
Should lemon tart be served hot or cold?
You will want to be serving your tarts cold or at room temperature if you prefer. For the most part tarts are served cold. You don't want the tart to be left out too long or it will spoil.
More Recipe Ideas
Print The Recipe Card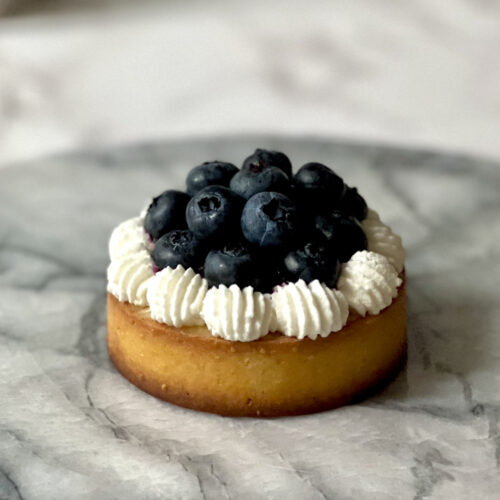 Lemon Blueberry Tart Recipe
Try my lemon blueberry tart is a delicious lemon curd filling that is paired with a flakey crust and topped with a blueberry compote.
Ingredients
Short crust pastry (pate sucree) recipe
340

g

all-purpose flour

225

g

butter

cut into 1-inch pieces, cold

112

g

powdered sugar

3.5

g

Kosher salt

2

egg yolks

lightly beaten

½

egg

lightly beaten
Lemon curd:
115

g

lemon juice

Zest of 1 lemon

115

g

of sugar

divided in 2

2

egg yolks

2

eggs

Pinch

of salt

58

g

butter

soft

1

gelatin sheet

bloomed
Chantilly cream:
260

g

heavy cream

35

g

powdered sugar
Blueberry compote:
250

g

fresh blueberries

55

g

granulated sugar

Pinch

of salt

Lemon juice to taste

10

g

Pectin NH
Instructions
Short crust pastry (pate sucree) recipe
Preheat oven to 350F

In the bowl of a stand mixer fitted with a paddle, add flour, sugar, salt and cold butter. Mix butter into flour on low speed until almost incorporated

Add eggs and egg yolks all at once.

Continue to mix until eggs are incorporated, butter is completely mix and the dough comes together. Do not overmix.

Dough can be rolled and shaped right away.

Place rolled and shaped dough in the refrigerator to chill and rest until ready to bake

Roll onto desired tart pan, score the dough

Bake at 350F until golden brown in color
Lemon curd:
In a small non-reactive saucepan heat lemon juice, half the sugar, zest and salt to a boil

– In a bowl, whisk eggs, yolks and other half of sugar to a light and ribbon consistency

– Slowly add the hot mixture into the ribboned eggs while whisking

– Return the mixture to the saucepan and heat until thickened, at 84F

– Strain over the butter and mix well.

Add drained gelatin sheet, the temperature should be at 150F or less.

– Let cool, cover with plastic film and put in the fridge to set
Chantilly cream:
Place cold heavy cream in a stand mixer bowl. Whip until soft peaks

– Add sugar and continue whipping until medium-firm peaks
Blueberry compote:
In a saucepan cooked the blueberries with the lemon juice while crushing the fruits to release the juice.

Mix the sugar with the pectin in a container

Once the fruit mixture boils add the sugar and pectin slowly while mixing with a spatula

Add salt.

Continue mixing until thickened