Did you know the difference between the French-method and Italian-method macarons is the type of meringue used? As their name suggests, Italian-method macarons are made with Italian meringue, which is a type of meringue made by adding a sugar syrup cooked to 120C/240F to whipping egg whites until glossy and stiff peaks are formed.
You will find that Italian macarons tend to be slightly sweeter compared to macarons made with the French method.
This is a recipe for a classic Italian-method macaron.
What Sets Italian-Method Macarons Set Apart From French-Method Macarons?
Appearance – Macarons made with Italian meringue offer a shell that can be smoother. Where French are a lot more delicate. You will find they can crack and break a lot easier, so you need delicate hands.
Texture– So another thing that is different is an Italian-method macaron is slightly sweeter than the French counterpart.
Flavors – You can use any type of filling for either type. Ganache, buttercreams, jams, dulce de leche, and so much more can be used. So there is no limit or difference in this area.
What Do Macarons Taste Like?
Macarons vary in terms of flavor. These are a sandwiched treat that have 2 macaron shells and a sweet filling. Depending on the flavoring you use, the shell and the filling can have different flavor components.
Macarons are known for their chewy and crisp outside shell and creamy filling. You will find the shells are not too chewy, but perfectly chewy and soft all in one.
Are Macarons Hard to Make?
Macarons can be very temperamental to make. You will find that you need to precisely measure, follow the recipe closely, and bake accordingly. You will find if you do not follow the recipe card it will run into issues with your macaron shells.
Also, check out my delicious pistachio and strawberry madeleine cookies for another stunning dessert.
Ingredients Needed for Italian Macarons
Granulated Sugar
Powdered Sugar
Almond Flour
Egg Whites
Cream of Tartar
Water
How to Make Italian-method Macarons
Prep
Preheat the oven and prepare your sheet tray.
If you need, print out the templates for your macarons.
Working on the Italian meringue
In a saucepan, add your water and sugar and cook until the temperature reaches 120C/240F.
While the mixture is heating up, whip half of the egg whites until they are frothy. Add the sugar syrup slowly to the whipping egg whites, avoid pouring over the whisk attachment.
Whip until you get glossy medium/stiff peaks..
Sift your flour and powdered sugar into the bowl. Add half the egg whites and make a paste.
Add in the food coloring.
Macaronage
Fold the meringue into the paste in 2 additions. This is important to prevent it from deflating.
Fold the batter until it becomes glossy and falls off the spatula like a ribbon. Many people will describe that you should stop macaronaging when the batter looks like lava or honey consistency, but for me it is more of an uninterrupted flow of batter from the spatula back to the bowl.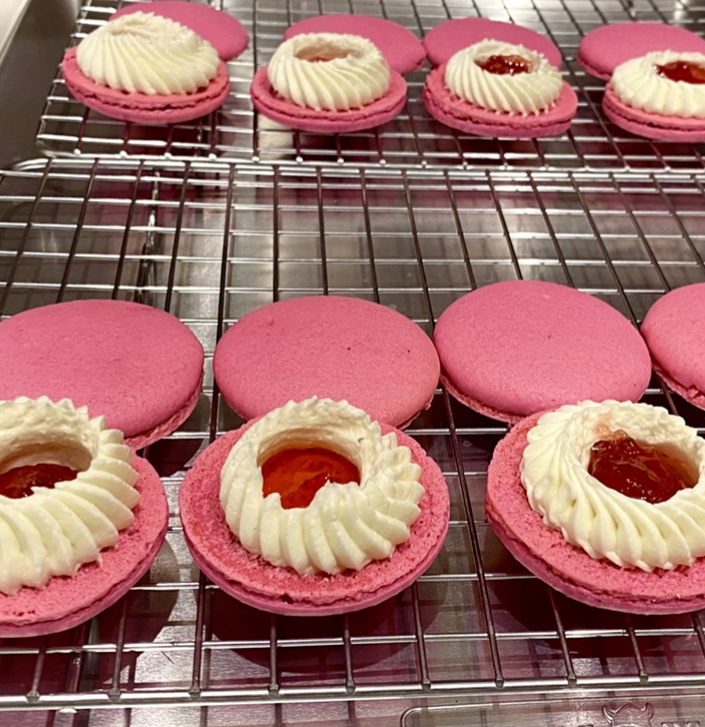 Bake
Pipe the macaron batter onto the pan and bake as directed.
Allow shells to cool and then pipe and fill when cooled.
Common Issues with Macarons
Why are the macaron shells crispy and hard when bitten into?
If you over bake the shells you will find it creates that crispy and hard texture. Bake for a bit less time and see if you find success.
What causes macarons to be hollow in the center of the shell?
You have to make sure that you bake the macarons properly. Even by pulling them out of the oven a minute early can create that hollow texture.
Since you are working with meringue you have to remember it is very airy. Also allowing your macarons to mature properly could be another cause.
Do macarons freeze?
Thankfully you can save your delicious macarons. Place in a freezer friendly airtight container. Then freeze for up to 8 weeks. This is important as you don't want them to become freezer burned if not stored properly.
Why are my bottom of macaron shells brown?
Having too high of a temperature in the oven could be the cause, if you didn't overbake them. If you find they are golden brown, you will want to lower the temperature to 5-10 degrees less in your oven.
Also if you do not use a quality baking sheet it can create hot spots which can overbake areas. If you find that not all the shells are brown on bottom that could be an indicator you need to get a sturdier baking sheet.

Must Make Desserts
Macaron Printable Recipe Card
Italian Macaron Recipe
As their name suggests, Italian-method macarons are made with Italian meringue, which is a type of meringue made by adding a sugar syrup cooked to 120C/240F to whipping egg whites until glossy and stiff peaks are formed.
Ingredients
150

g

granulated sugar

150

g

powdered sugar

150

g

almond flour

110

g

55 and 55 divided egg whites

¼

teaspoon

cream of tartar

38

g

water
Instructions
Pre-heat oven to 300F

Prepare templates and trays

Prepare Italian meringue:

Heat the sugar and water in a small saucepan to soft ball stage (240F / 118C)

While the syrup reaches temperature, start whipping half (55g) of the egg whites and cream of tartar

Add syrup to frothy egg whites and whip until stiff peaks

Sift almond flour and powdered sugar into one bowl, add half (55g) of egg whites and make a paste, add food coloring

Macaronage: Fold meringue into paste in 2 additions, do carefully to not deflate the batter.

Fold until the batter becomes glossy and flows like a ribbon.

Bake at 300F for 13-15min