Cranberry walnut entremet
This cranberry walnut entremet is the ultimate dessert for this holiday season. You have a cranberry mousse, cranberry coulis, walnut crunch, almond genoise, and a shortcrust cookie. All of these layers come together for an exquisite dessert.
While this dessert takes time to make, it is absolutely delicious and will win over your friends and family with one single bite.
An entremet is the ultimate dessert, entremet means "in between layers" in French, and it is usually made of a variety of components, which bring textures as well as a harmony of flavors.
Making entremets was always a dream of mine since I started baking. I was always intimidated by them, but they are actually not very difficult. You just need to be patient, understand the consistencies needed for each element, make sure that you provide enough setting time and have a list of things to do.
I know, it does sound like a lot, but believe me, with the right recipe you can do this as well! I hope that my explanations below help you.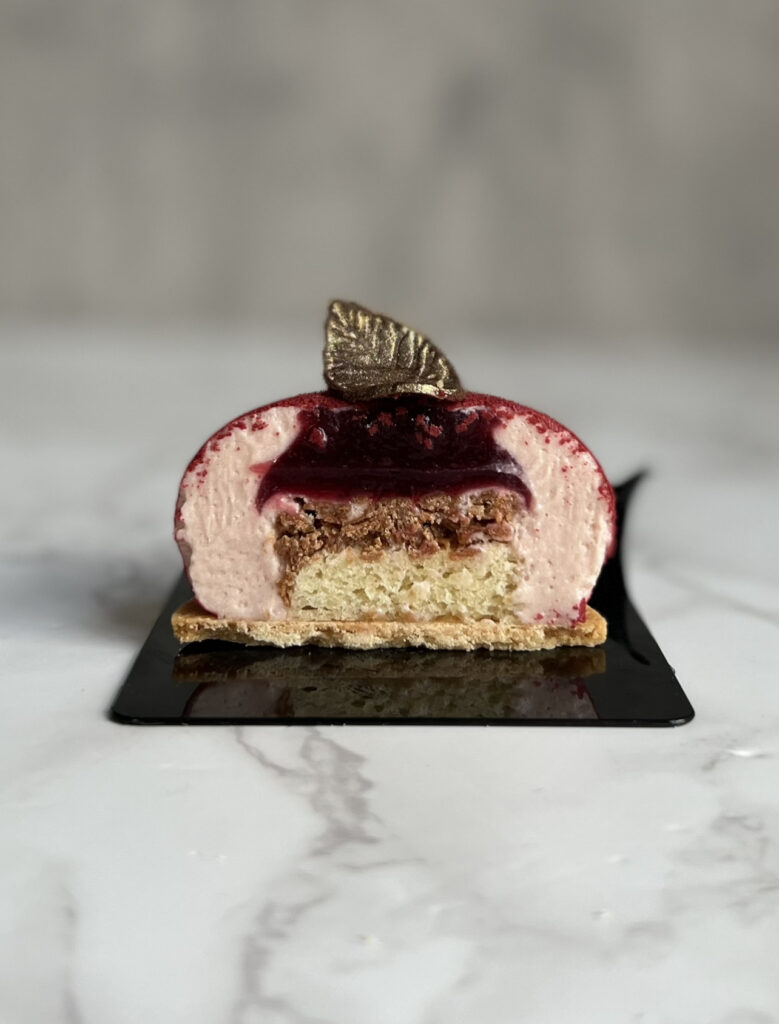 Mousse Layer
The mousse layer might be the most critical component of the entremet, you want to make sure that you use the right setting agent at the right amount. There are a variety of setting agents you could use depending on your preference. Gelatin is the one that is used most commonly in the pastry world, however, if your diet does not allow the use of gelatin you could use agar-agar, for example.
This entremet is composed of:
– Cranberry mousse
– Cranberry coulis
– Walnut crunch
– Almond génoise
– Shortcrust cookie (pâte sucrée)
Finished with a velvet spray, leaves made with modeling chocolate, a tempered chocolate disc and gold leaves. However, one of the best aspects of an entremet is that you can do any decor that you want (or none, a simple entremet is always very elegant) and they will always be impressive.
Ingredients Needed
Inverted Sugar
Lemon Juice
Sugar
Salt
Pectin
Gelatin Mass
Eggs
Marzipan
Flour
Baking Powder
Clarified Butter
Walnuts
Glucose Syrup
Powdered Sugar
Heavy Cream
Cranberry Puree
White Chocolate
Cocoa Butter
How to Make
Okay so the directions on this were really confusing to me and I didn't want to mess them up I am sorry on this. I thought also by leaving this out I could add more info on this recipe.
What are entremets?
Entremet is a cake-like dessert that is composed of layers of flavor. You will find it has mousse, a cookie or crust layer, nuts and more. This is a dessert that offers incredible detail to make but offers that show stopping moment at all times.
You will find that the entremet can be all different colors, shapes, and such, depending on what the person wants to bake up this dessert.
FAQs
Can you freeze an entremet?
Entremets are made by freezing the assembled layers into a mousse and using a mold, you can keep this assembled entremet in the freezer for long periods. If there is a glaze on top, you can't freeze this dessert and I recommend eating it within 2 days.
Can I decorate this differently?
Feel free to decorate your cranberry walnut entremet anyway you would like to fit the theme you are looking for. I love the idea of looking around your kitchen and finding items you might want to showcase and display.
Related Recipes
Printable Recipe Card
Cranberry walnut entremet
Cranberry walnut entremet is a cranberry mousse, cranberry coulis, walnut crunch, almond genoise, and a shortcrust cookie.
Ingredients
Gelatin mass:
Gelatin mass:

used in the coulis and the mousse

Gelatin powder

Cold water
Cranberry coulis:
250

g

cranberry puree

e.g., Les vergers Boiron product

30

g

inverted sugar

5

g

lemon juice

50

g

sugar

Pinch

of salt

5

g

pectin

mixed with 25g sugar

25

g

gelatin mass
Almond Genoise sponge:
6

eggs

255

g

marzipan

60

g

all-purpose flour

1

teaspoon

baking powder

100

g

clarified butter

melted and cooled
Walnut Praline:
125

g

roasted walnuts

unsalted

125

g

granulated sugar

20

g

glucose syrup

30

g

water
Short crust pastry (pate sucree) recipe
170

g

all-purpose flour

112

g

butter

cut into 1-inch pieces, cold

62

g

powdered sugar

1.8

g

Kosher salt

1

egg yolk

lightly beaten

15

g

whole eggs

lightly beaten
Cranberry mousse:
100

g

heavy cream

1

100

g

milk

250

g

cranberry puree

110

g

egg yolks

35

g

sugar

50

g

gelatin mass

350

g

high quality white chocolate

Ivoire 35% Valrhona

600

g

heavy cream

2
Velvet spray:
200

g

white chocolate

200

g

cocoa butter

Red food coloring of interest

oil based
Instructions
Mix the gelatin powder and cold water in a ratio of 1:6.If the recipe requires 56g of gelatin mass, divide 56g by 7 = 8.Therefore, we need 8g of gelatin powder and 48g of water to create56g of gelatin mass.2.Mix the powder and water and combine with a whisk.3.In 15-20 minutes, the gelatin will set. It will become a grainy, matt, yellowish, stable mass.4.Slowly melt the gelatin mass in a microwave at 60-80°C (140-176°F)to reconstruct and pasteurize the water.

5.Pour onto a tray or into a container to a height of 1-2cm and allow to set for 15-20 minutes. When it sets for the second time, the mass will become firm and hard. You won't be able to scoop it with a spoon anymore, but it should easily come out of the tray or a container in a single piece.6.Place the gelatin mass on a cutting board and cut into small cubes of1-3cm. The cubes should look transparent, slightly yellow, flexible and very firm (like gummy bears).7.Use right away or store in an airtight container in the fridge for a week or two months in the freezer.

Gelatinmass can be prepared in bulk for several recipes at once.
Cranberry coulis:
Combine the cranberry puree, inverted sugar, lemon juice, sugar and salt in a saucepan.

Heaton medium-low heat until the temperature reaches 40-44C.

Remove from the heat and slowly add the pectin/sugar mixture while whisking Place back in the heat and bring to a boil. Boil for 30s.

Remove from the heat, let the temperature to decrease to 65C or lower and add the gelatin mass. Stir well with a spatula to combine.

Pour the coulis in small half sphere silicon molds (Pavoni FR039), remove the excess with an off-set spatula.

Place in the freezer to set for 2-4hr.
Almond Genoise sponge:
Preheat the oven to 375F. Line sheet trays with parchment paper, make sure the walks are greased with butter.

Add eggs and marzipan to a blender, blend until smooth.

Transfer to the bowl of a stand mixer fitted with a whisk attachment. Whisk on high for approximately 10 minutes.

Lower speed and whisk for another 10 minutes. The mixture should be airy and form ribbons that hold peaks when dropped for 3 – 5 seconds. Transfer egg mixture to a bowl, sift flour and baking powder over it. Fold gently with a spatula.

Take a small portion of the batter and place in a different bowl, add half the melted/cooled butter and mix until combined. Add the remaining half and mix.

Add the butter mixture into the other remaining batter and fold gently. Pour immediately over the prepared sheet trays.

Bake until set, 10-15min, or golden brown. Cool completely.
Walnut Praline:
Roast walnuts for 5-7min. Let cool

In a saucepan combine sugar, glucose and water. Cook on medium heat until it caramelizes, in which the sugar will turn into an amber color.

Add the roasted walnuts to the caramel and combine well with a spatula. Pour the walnuts caramel into a silicon mat, spread with a spatula and let cool completely, this will be a brittle

Break the brittle into small pieces and place in the bowl of a food processor.

Process until the brittle becomes a paste, this will take a few minutes. If the paste is not smooth, add a small amount of vegetable oil and continue mixing in the food processor.
Short crust pastry (pate sucree) recipe
Cut the butter into small uniform pieces (1 inch).

In the bowl of a stand mixer fitted with a paddle, add flour, sugar, salt and cold butter. Mix butter into flour on low speed until almost incorporated, it should look like sand texture. Add egg and egg yolks all at once but slowly

Continue to mix until eggs are incorporated, butter is completely mix and the dough comes together. Do not overmix.

Form a disc, cover with plastic film, and let rest in the fridge.

Roll the dough to 1/4in on a lightly floured surface using a rolling pin.

Cut the dough using a cookie cutter slightly bigger than the size of the bottom of the dessert, check the size by comparing with the Silikomart Stone 85 mold, the bottom of the dessert will be the top of the mold.

Place the cut dough discs in a sheet tray lined with parchment paper. Place another sheet of parchment on top and another sheet tray to weight down the dough while baking.

Bake for 10-15 min, or until golden brown.
Cranberry mousse:
Combine the heavy cream (1), milk and cranberry puree in a saucepan. Heat to 70 Celsius.

While the mixture heats, ribbon egg yolks with sugar using a whisk in a heatproof bowl

Temper the eggs by slowly adding the mixture (at 70 Celsius) using a whisk.

Add the mixture back to the saucepan, heat to 84Celsius, the mixture will thicken.

Add the crème anglaise over the chocolate in a heatproof bowl. Combine well with a spatula, use a hand blender if needed.

Add the gelatin mass when the temperature of the chocolate mixture is below 65C/150F. Mix well until combined. Let the mixture cool to 35C.

While the mixture cools, place the heavy cream (2) in the bowl of a stand mixer, whip with the whisk attachment until soft peaks are formed, do not mix beyond this point.

Fold the whipped cream over the cooled chocolate mixture in two additions. Combine gently.

Use immediately, read below for the assembly of the dessert.
Velvet spray:
Melt white chocolate and cocoa butter in a double boiler, add coloring and mix well with a hand blender.

Keep warm until use. The mixture can be reheated in the microwave by short burst of 30s until completely melted.
Entremet assembly and finishing:
Build the insert:

Using a cookie cutter that fits the size of the mold used for the cranberry coulis (around 4cm diameter), cut discs of both the walnut crunch layer and almond genoise. Place the walnut crunch on top of the almond genoise.

Remove the cranberry coulis from the mold, place immediately on top of the walnut crunch/genoise.

Keep the inserts in the freezer.

Prepare the cranberry mousse, pour in a piping bag and fill ¾ of the Silikomart Stone 85 mold.

Place the insert inside the mold with the mousse.

Add additional mousse to fill any potential gaps. Remove any excess with a spatula.

Freeze until set, minimum 6-8hr, preferably overnight.

Remove the entremet from the mold. Immediately place on a sheet tray wrapped with plastic film. Spray the dessert using the velvet mixture.

Add any desired decorations and place in the fridge to thaw for 1-3hrbefore serving.