Try out these delicious cookies made with chocolate and vanilla dough on a checkerboard design, these are truly crowd pleasers and will always impress your guests. Also, You will get the perfect pairing of a chocolate and vanilla cookie all in one.
While the design looks complicated these colorful cookies are actually pretty easy to make. They also will dress up you dessert tray if you plan to serve these up during any party. These cookies are delicious all year round.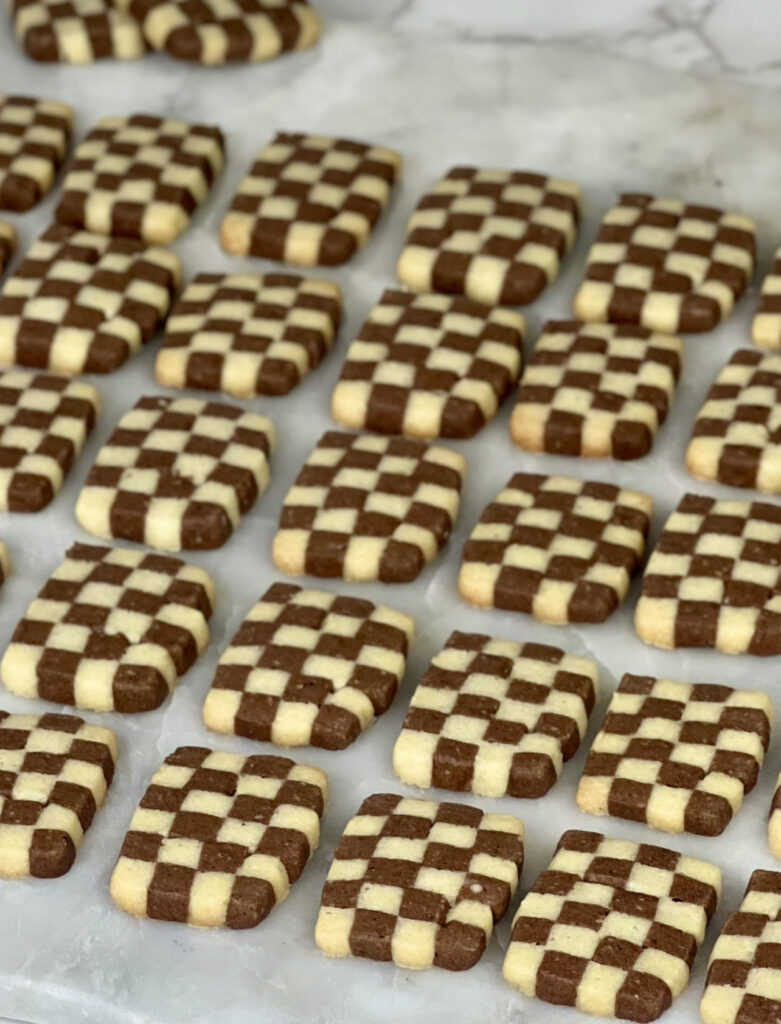 Ingredients Needed
Flour
Baking Powder
Salt
Unsalted Butter
Granulated Sugar
Egg
Vanilla
Unsweetened Cocoa Powder
Milk
How to Make
Start by creaming your butter and sugar together, until airy.
Then you will add in the eggs and vanilla, mixing until it is combined.
Add in the dry ingredients, mixing on low, until combined. Make sure to not overmix.
Divide the dough into two bowls, then add the chocolate ingredients to one bowl, to create the chocolate cookie.
Wrap both of the doughs and chill in the freezer for one hour. It is very important to work with a very cold dough the entire time, otherwise making the checkerboard design might be difficult, therefore if your dough gets too soft, just pop back in the freezer for a few minutes.
Preheat the oven, and then remove the dough from the freezer and brush the chocolate dough with water and the vanilla dough as well.
Then you will measure 1/4 inch strips with a ruler and cut 1/4 inch strips with a sharp knife. Repeat and freeze strips until hardened.
Prep the cookies then bake as directed.
Helpful Tips for Success
Using a ruler will help ensure you get evenly cut layers of cookie.
Working with the chilled dough is key, if it is not chilled it will not create clean lines.
You can roll cookies or cut into squares or any other shape if you want.
Make sure to watch the thickness of your cookie dough.
Make sure that both of the cookie doughs are the same size, that way you get a clean look to the cookies.
Storing Cookies
You will store your cookies in an airtight container at room temperature. These cookies will store for a few days.
Now you can also freeze any of the cookies you do not plan to eat right away. Just place it in a freezer container or bag. Then freeze for 2-3 months.
Variations to Cookies
Consider adding flavor extract to the vanilla cookie dough. Mint would make these a tasty mint chocolate cookie. Or you could even do almond extract.
Consider coloring the vanilla dough a different color. Red or green would give a festive holiday feel.
If you don't want to do the chocolate layer, leave the dough all vanilla and then just add food coloring the half the dough.
Add some coarse sugar on top to add extra sweetness to the cookies.
Feel free to frost the cookies so when they bite into the cookies they see the checkered look.
Dessert Recipes To Try
Print Recipe Card
Checkerboard Cookies Recipe
Checkerboard cookies are a chocolate and vanilla dough that is in a checkerboard design. Homemade cookies that will be a crowd pleaser.
Ingredients
For the vanilla dough
315

g

all-purpose flour

sifted

1/2

teaspoon

baking powder

1/2

teaspoon

salt

230

g

unsalted butter

softened to room temperature

200

g

granulated sugar

1

large egg + 1 egg yolk

at room temperature

1

and 1/2 teaspoons pure vanilla extract
For the Chocolate Dough
315

g

all-purpose flour

sifted

1/2

teaspoon

baking powder

1/2

teaspoon

salt

230

g

unsalted butter

softened to room temperature

200

g

granulated sugar

1

large egg + 1 egg yolk

at room temperature

1

and 1/2 teaspoons pure vanilla extract

2

Tablespoons

10g unsweetened natural or dutch-process cocoa powder

1

Tablespoon

15ml milk
Instructions
Make the dough following the creaming method in stand mixer

Cream butter and sugar until combined and airy

Add eggs and vanilla, mix until combined

Add dry ingredients and mix on low until just combined, do not over mix

Divide the dough into 2, I advise using a scale to accurately divide into two similar pieces, place one half in the mixer and add cocoa powder and mix.

Roll the doughs to 1/4 inch rectangles on a lightly floured surface. Wrap both doughs and chill in the freezer for at least 1hr.

The thickness of the dough will determine the size of the checkerboard, adapt to the desire one.

Preheat the oven to 350F

Remove doughs from the freezer, brush the chocolate dough with water and place the vanilla dough on too. Cut to a perfect rectangle.

while still very cold, measure 1/4in strips with a ruler, cut the 1/4in strips with a knife.

Repeat and place the strips on the side and top of the previously cut ones, add water first and make sure the vanilla and chocolate alternate.

* Freeze the strips until hard. Remove from the freezer and cut 1/4in slices. Place in baking tray prepared with parchment paper

*place the tray in the freezer and chill until hard

* Remove from the freezer and bake directly at 350F for 14min