Macaron filled with Swiss Meringue Buttercream
Swiss meringue buttercream is ultra creamy, holds shape and has the perfect balance of sweetness. If you are looking for a simple, delicious, yet elegant macaron recipe, this is the one for you. Stunning presentation value that truly melts in your mouth. Learn how to make Swiss meringue buttercream like a pro.
Compared to American meringue you will find it is less sweet, which is very appealing to many. Swiss meringue is very stable and oh so delicious.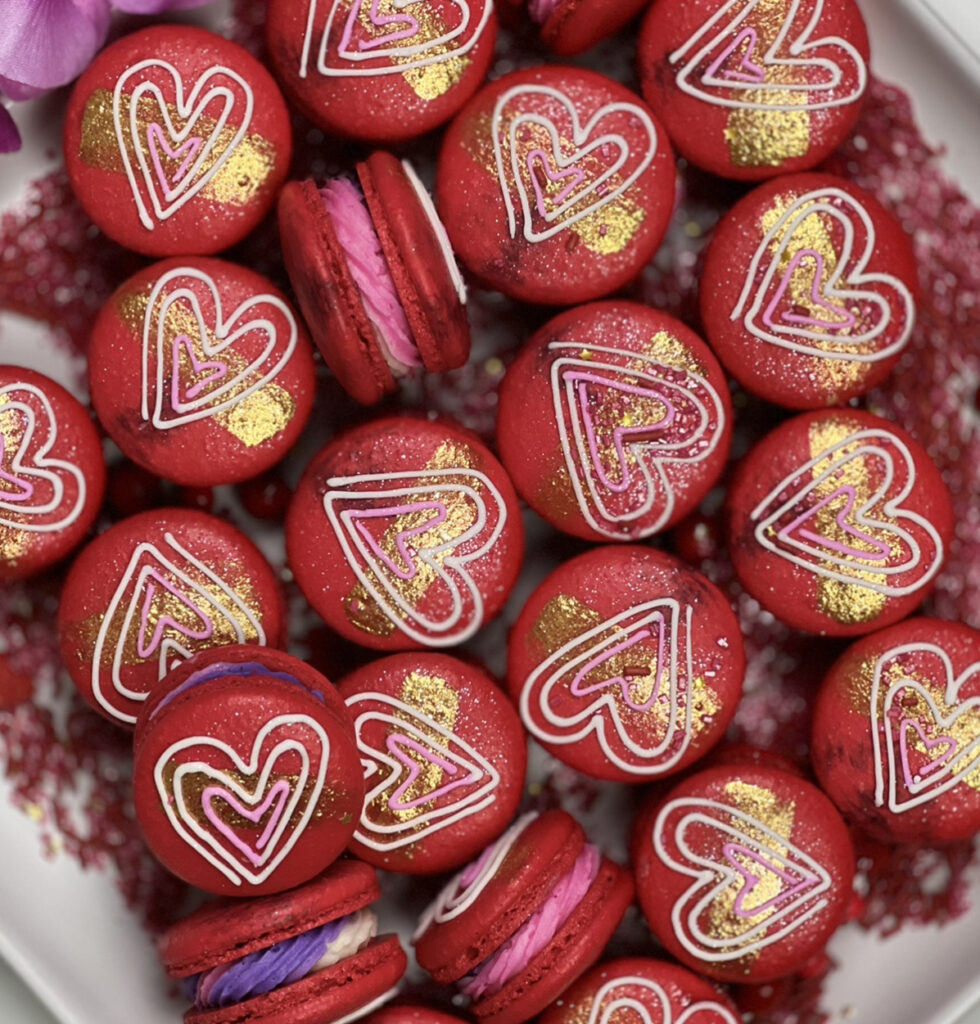 What is Swiss Meringue Buttercream
Swiss meringue buttercream is an egg white-based buttercream that is made by a meringue that is done with egg whites heated with granulated sugar in a double boiler (or bain marie). Simple ingredients are needed to make Swiss meringue buttercream. You will find that this meringue frosting is light and airy, holds shape, and is slightly sweet. This type of frosting is great for piping desserts, filling for macarons, pastries, and more.
Note: Want to go deeper? Learn the science behind meringue, to set yourself up for success every single time.
Ingredients Needed
Egg whites
Granulated Sugar
Powdered Egg Whites
Powdered Sugar
Almond Flour
Sugar
Cream of Tartar
Butter
Salt
Flavor of Choice
How to Make
Mise-en-place
Start by preheating the oven to 300 degrees F.
Wipe the silicone baking mat with vinegar, and then print templates if you need.
Weigh all the ingredients.
Dry Ingredients
Start by combining the egg white powder in a bowl with the granulated sugar. This will prevent the egg white powder from clumping. You can always do this recipe without the egg white powder, you could use 1/8th of a teaspoon of cream of tartar instead.
Next, sift almond flour and powdered sugar two times.
Prepare the Meringue for Macarons
With a stand mixer use a whisk and whip the egg whites on medium until foamy.
Add in the granulated sugar/egg white powder mixture slowly. Mix on medium-slow until glossy stiff peaks form.
Macaronage
Add half of the meringue into the flour and powdered sugar mixture.
Next add in the food coloring.
Fold with a spatula to mix until incorporated.
Then add in the rest of the meringue.
Fold the batter until it becomes glossy and falls off the spatula like a ribbon. Many people will describe that you should stop macaronaging when the batter looks like lava or honey consistency, but for me it is more of an uninterrupted flow of batter from the spatula back to the bowl.
Piping and Baking
I used a round tip Wilton #12, and a pastry bag.
Pipe circles onto the tray, then allow the macarons to rest until a skin develops on the batter, this will depend on the humidity of your environment, but it usually takes anywhere between 15-45min.
Bake as directed.
Let the macarons cool before removing from the baking surface.
Swiss Meringue Buttercream
In a stand mixer add egg whites, sugar, and cream of tartar.
Place over a double boiler and whisk until smooth and sugar is dissolved.
Transfer bowl to a stand mixer and whip on medium high speed until shiny and peaks form.
Switch to a paddle and then add in small pieces of butter until combined.
Add salt and flavor of choice.
Storing
Once the macarons are filled they will store for up to 48 hours in an airtight container in the fridge. The beauty is they are freezer friendly as well and can freeze for up to 8 weeks.
Common Questions about Swiss Buttercream
How long can Swiss buttercream stay out?
Swiss buttercream can sit out for 1-2 days. But if your buttercream is in the shells of the macaron then you will want to keep them refrigerated or frozen to preserve the macaron shells.
What happens if you overbeat Swiss meringue?
Over beating Swiss meringue can lead to curdling and the buttercream to break down. Make sure to follow the directions and measurements precisely.
Why is my Swiss buttercream separating while mixing?
If you use too cold of butter you will find it can cause the buttercream to separate when you are mixing it up. You want the butter to be at room temperature, if the butter separates just continue mixing, you will see that it will eventually combine!
Can you color Swiss meringue buttercream?
Dress up the Swiss frosting with your favorite colors. You can easily add tint to the frosting with your favorite food colorings. I love using gels. Add as little or as much to reach your desired color.
Does Swiss meringue buttercream set hard?
As the butter begins to chill in the fridge you will find it begins to set a bit harder. But it won't be as hard as plain butter. So just know it will harden slightly.
Craving More
Check out these macaron recipes below, that are bursting with flavor and offer a stunning presentation value for guests and family.
Printable Recipe Card
Macaron with Swiss Meringue Buttercream
Swiss meringue buttercream is ultra creamy, holds shape and has the perfect balance of sweetness. Give this macaron with Swiss meringue a try.
Ingredients
100

g

egg whites

90

g

granulated sugar

4

g

powdered egg whites

130

g

powdered sugar

130

g

almond flour
Swiss Meringue Buttercream Recipe:
4

egg whites

8

oz

sugar

1/2

teaspoon

cream of tartar

16

oz

butter

softened

½

teaspoon

salt

Flavor of choice
Instructions
Mise-en-place:
Pre-heat oven to 300F

Wipe with vinegar the silicon mats, bowls and baking trays. Print templates if using.

Weight all the ingredients in separate bowls

◦ The egg whites can be directly taken from the fridge and do not require aging.
Prepare dry ingredients:
Add egg white powder to the bowl containing the granulated sugar and mix well.

If the almond flour is not super fine, I recommend doing 2-3 pulses in a food processor. Only do this for short amounts of time.

Sift the almond flour and powdered sugar. Do this two times.

Note: keep all the containers covered with lids.
Prepare the French Meringue:
In the bowl of a stand mixer fitted with a whisk, whip egg whites on medium speed until foamy/frothy.

Gradually add the granulated sugar/ powdered egg white mixture, continue whipping on medium speed until glossy stiff peaks
Macaronage:
Add half of the meringue to the almond flour / powdered sugar mixture.

Add gel food coloring

Fold gently with a spatula until the dry ingredients are incorporated

Add the remaining meringue

Fold gently until the batter becomes glossy and falls off the spatula like ribbons.
Piping:
Fit a round tip (e.g., Wilton 12) in a pastry bag, place the bag inside a tall measuring cup or a deli container, wrap the bag in the edges of the cup to keep it open

Pour the macaron batter into the pastry, remove from the cup

Pipe circles onto the tray with silicon mat or pre-printed template under a piece of parchment
Resting and baking:
Let the piped macarons rest on the kitchen counter until a skin is developed, you will be able to gently touch them without batter sticking to the fingers.

Once the skin is formed, place inside the oven, bake at 275-300F (this will depend on your location and other factors like humidity) for 15-18min.

◦ Use an oven thermometer to make sure the oven is not too hot.

Let the macarons cool before removing from the baking surface
Make Swiss meringue:
– In a bowl of a stand mixer using a whisk, combine egg whites, sugar and cream of tartar

– Place over a double boiler, whisk until smooth, the sugar is dissolved and warm to touch

– Transfer bowl to stand mixer, whip on medium-high speed until cool and firm/shiny peaks form.
Make the buttercream:
Switch to the paddle attachment. Gradually add pieces of butter, combine until fully emulsified.

If the mixture seems to break, continue mixing it and it will eventually combine into a smooth buttercream.

– Add salt and flavor of choice
Filling macarons:
Fit a small tip, I recommend tips like 4B, 1M for nice piping designs, inside a pastry bag. Place inside a tall measuring cup or deli container.

Pour the ganache inside the bag

Take 1 macaron shell, pipe the ganache in the center

Take another macaron shell and sandwich the filling. The best ratio of macaron to filling is 2:1