How to Make A Macaron Gingerbread House
Hello friends, today I am here to tell you the step-by-step process to make this stunning macaron gingerbread house! It is a showstopper and perfect as a table centerpiece!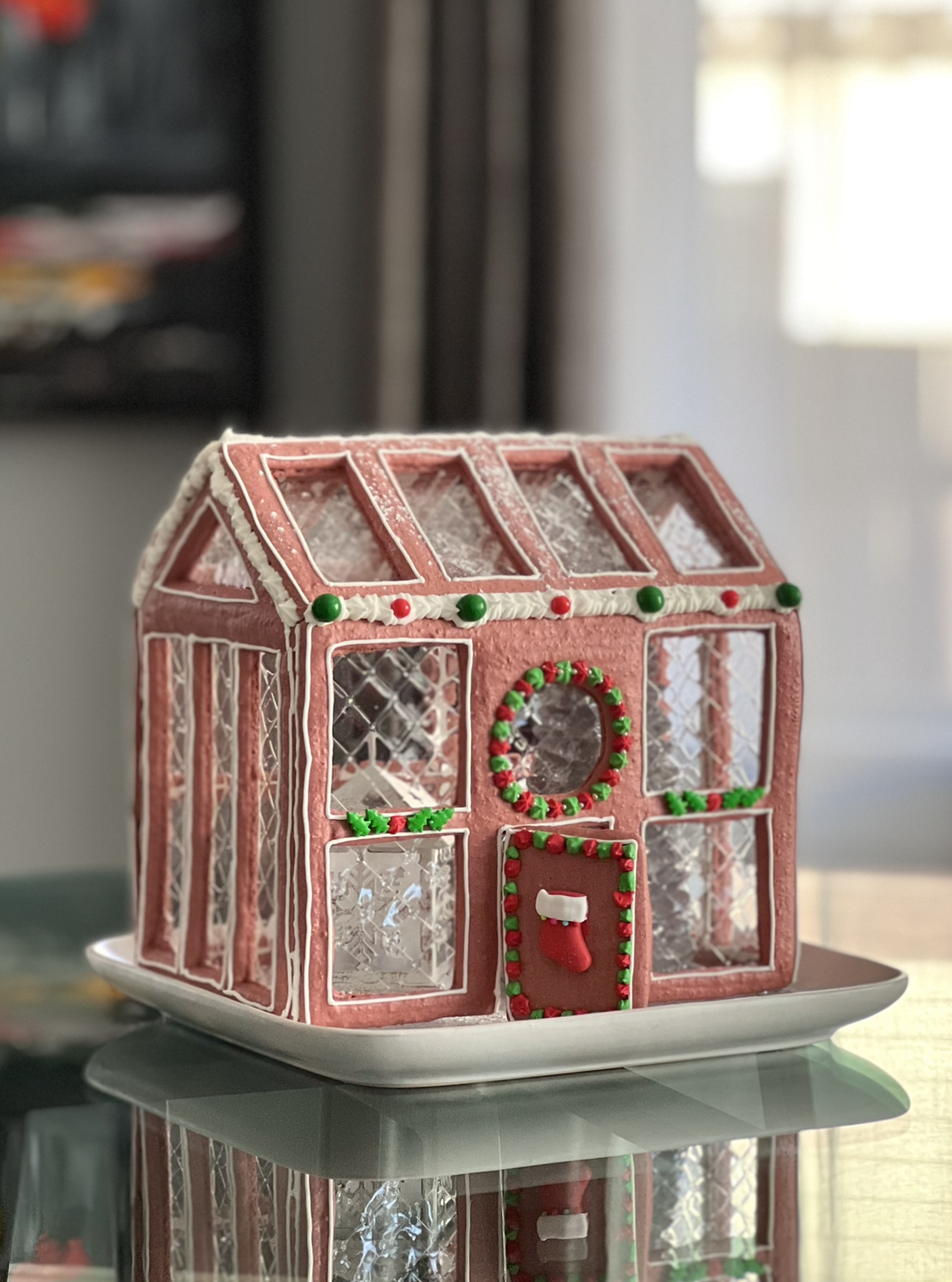 Gingerbread houses are a fun activity, making them out of macaron batter will not only be more impressive but also yummier.
I offer a free template that you can download and place under your mat or parchment paper to make your own Macaron Gingerbread house!
The macaron is flavored with cinnamon and ginger, but you can add your own holiday flavors to it by using any spice(s) in powder that you want.
GINGERBREAD HOUSE TEMPLATE
Here is the macaron gingerbread house template, you can download it for free, place it under your baking mat or parchment paper, and pipe the panels. For this type of large macarons I like using Teflon sheets, since you can easily remove the macarons from these. I buy my Teflon sheet directly from Amazon 
Click Here to download template.
HOW TO PIPE THE BATTER:
Making this house can be intimidating, but it really isn't, it just needs a little bit of work, because you are making shapes that always take longer.
First, prepare your macaron batter to the normal consistency, which is determined by the batter flowing off the spatula like a ribbon. Read my other blog posts
Place the batter in a piping bag, I did not use a piping tip and did a small cut on the tip. If you prefer using a tip, I recommend using a circle tip like Wilton 10.
Start piping the sides of the windows with a steady motion. This may take a little bit of practice to do, I recommend doing it first on a piece of parchment using royal icing. Once you feel comfortable go ahead and pipe your macaron batter.
The secret for sturdy panels that have feet is to pipe again the batter on top of the one you just piped; this will provide the thickness that is required for a macaron to develop feet.
Once you pipe each panel you can smooth it by using either a toothpick or a scribe tool. Just gently move the batter around to fill any gaps, for example.
How to bake your macarons
After you finish piping the stars let them rest until a skin form. Shaped macarons always have to rest before baking in my experience, or they crack when you bake them. I advise you to start baking the macarons at a lower temperature than you would normally do. For my round macarons I bake at 300 Fahrenheit for about 15min. For these panels start baking at 250 Fahrenheit for 3-5min, then increase the temperature to 300 Fahrenheit until the macarons are fully baked.
HOW TO ASSEMBLE THE MACARON GINGERBREAD HOUSE:
Once the macarons are done baking and cooling, you can decorate and assemble the house using royal icing with a thick consistency.
Making royal icing is really easy, but if you can't find meringue powder, substitute with a recipe using egg whites, there are tons online! You can even make vegan royal icing! You could get those icing bags from the store too that have the icing already made, you barely will be able to taste it since it's so little that goes on top of the macarons.
First, pipe royal along the windows on the internal side of the house, and place a gelatin sheet on each window.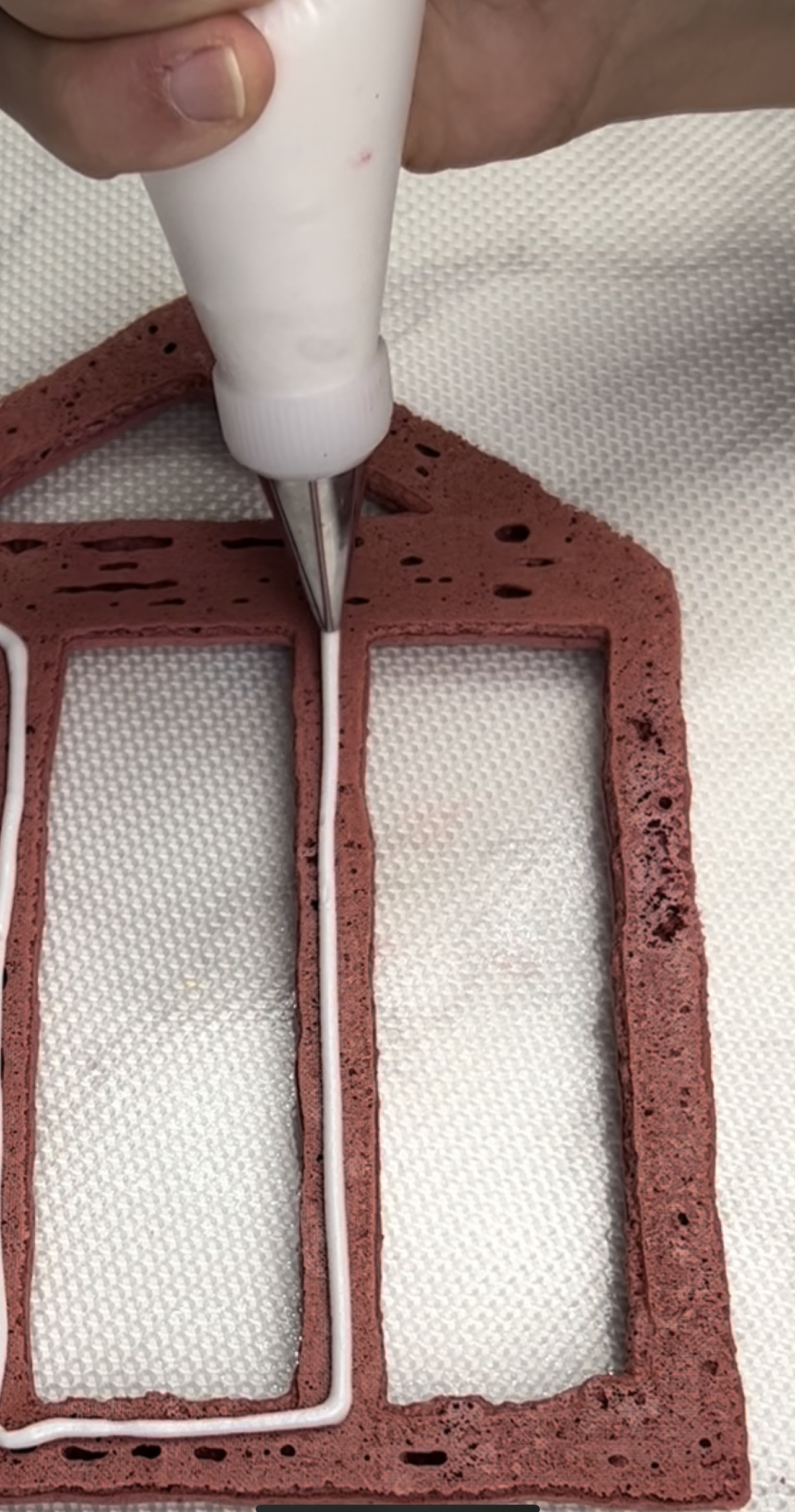 Once all the windows have gelatin sheets start decorating the front of the house. I piped royal icing along the borders of the house. I also made a wreath on the center window by using green and red royal icing, for this I used a small star tip. You can decorate with any holiday related sprinkles you have, there are endless possibilities!
After decorating the front of the house, you can start assembling the structure of the house. Pipe royal icing on the borders of the internal part of the back of the house, then place the sides on top. Make sure to put something to keep them standing, like small cups/glasses, for example.
Let the sides dry completely, this will take anywhere from 1-4hr, depending on the humidity and how thick your royal icing is. Then, add royal icing to the sides of the house and place the front on it. Again, let it dry completely for several hours.
After the royal icing has completely dried, move the house to its final upright position, I put it directly on a serving plate for easy transfer.
Glue the roof of the house by adding royal icing to the top.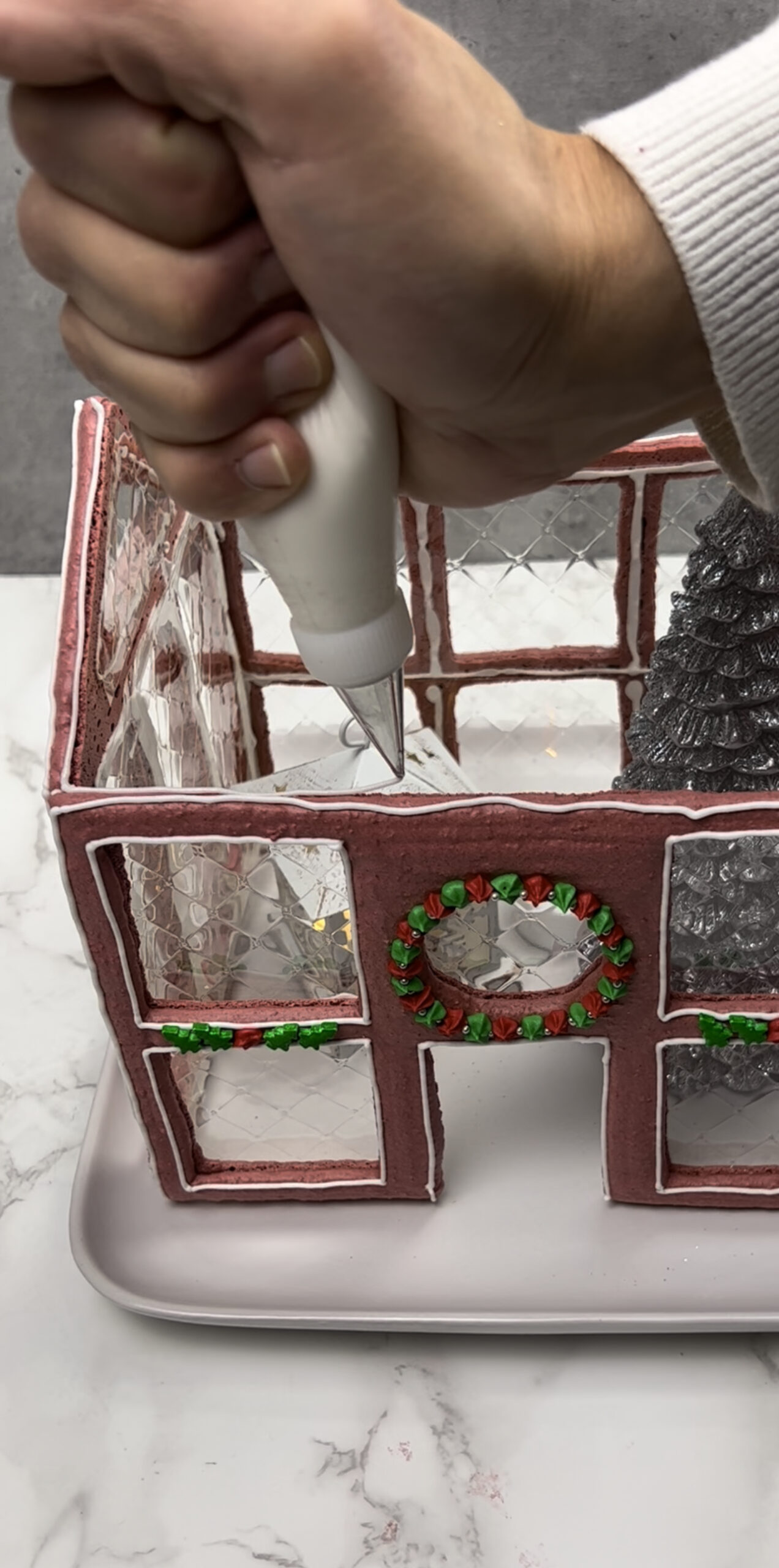 Then, add a layer of royal icing to the edges to fill the gaps, you can use a star tip for this if you want to give it texture.
Finish your macaron gingerbread house by decorating the door, you can do any designs of your preference, I used green royal icing and a stocking transfer I got from Fancy Sprinkles.
Now you are ready to display your gingerbread macaron house! Everyone will love it! Enjoy and have happy holidays!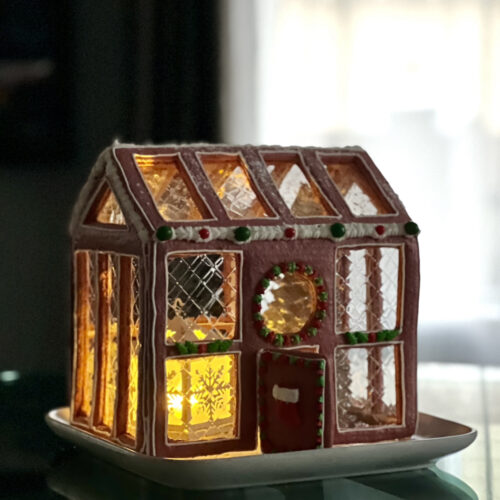 Macaron Gingerbread House
Macaron Gingerbread House is a gingerbread house made out of a homemade macaron. A must make this Christmas season. Learn how to make this stunning macaron house.
Ingredients
100

g

egg whites

90

g

granulated sugar

4

g

powdered egg whites

130

g

powdered sugar

130

g

almond flour

1/4

tsp

ginger powder

1/2

tsp

ground cinnamon
Instructions
Mise-en-place:
Pre-heat oven to 300F

Wipe with vinegar the silicon mats, bowls and baking trays. Print templates if using.

Weight all the ingredients in separate bowls

◦ The egg whites can be directly taken from the fridge and do not require aging.
Prepare dry ingredients:
Add egg white powder to the bowl containing the granulated sugar and mix well.

If the almond flour is not super fine, I recommend doing 2-3 pulses in a food processor. Only do this for short amounts of time.

Sift the almond flour and powdered sugar. Do this two times.

Note: keep all the containers covered with lids.
Prepare the French Meringue:
In the bowl of a stand mixer fitted with a whisk, whip egg whites on medium speed until foamy/frothy.

Gradually add the granulated sugar/ powdered egg white mixture, continue whipping on medium speed until glossy stiff peaks
Macaronage:
Add half of the meringue to the almond flour / powdered sugar mixture.

Add gel food coloring

Fold gently with a spatula until the dry ingredients are incorporated

Add the remaining meringue

Fold gently until the batter becomes glossy and falls off the spatula like ribbons.
Piping:
Add tip and place the bag inside a tall measuring cup or a deli container, wrap the bag in the edges of the cup to keep it open

Pour the macaron batter into the pastry, remove from the cup

Pipe circles onto the tray with silicon mat or pre-printed template under a piece of parchment
Related Recipes