Macaron Filled With Ruby Whipped Ganache
Serve up these showcase-worthy macarons filled with ruby whipped ganache. A beautiful decorated macaron shell that is then filled with this velvety smooth ruby whipped ganache. Your friends and family will soon over the flavor and presentation value of these macarons.
So what makes these macarons stand out from the rest? Well the ruby chocolate is made by Callebaut. It is a stunning pink color that is sweet, fruity, and will totally shock everyone by how delicious it is. Plus I wanted to make a whipped ganache instead of a classic ganache.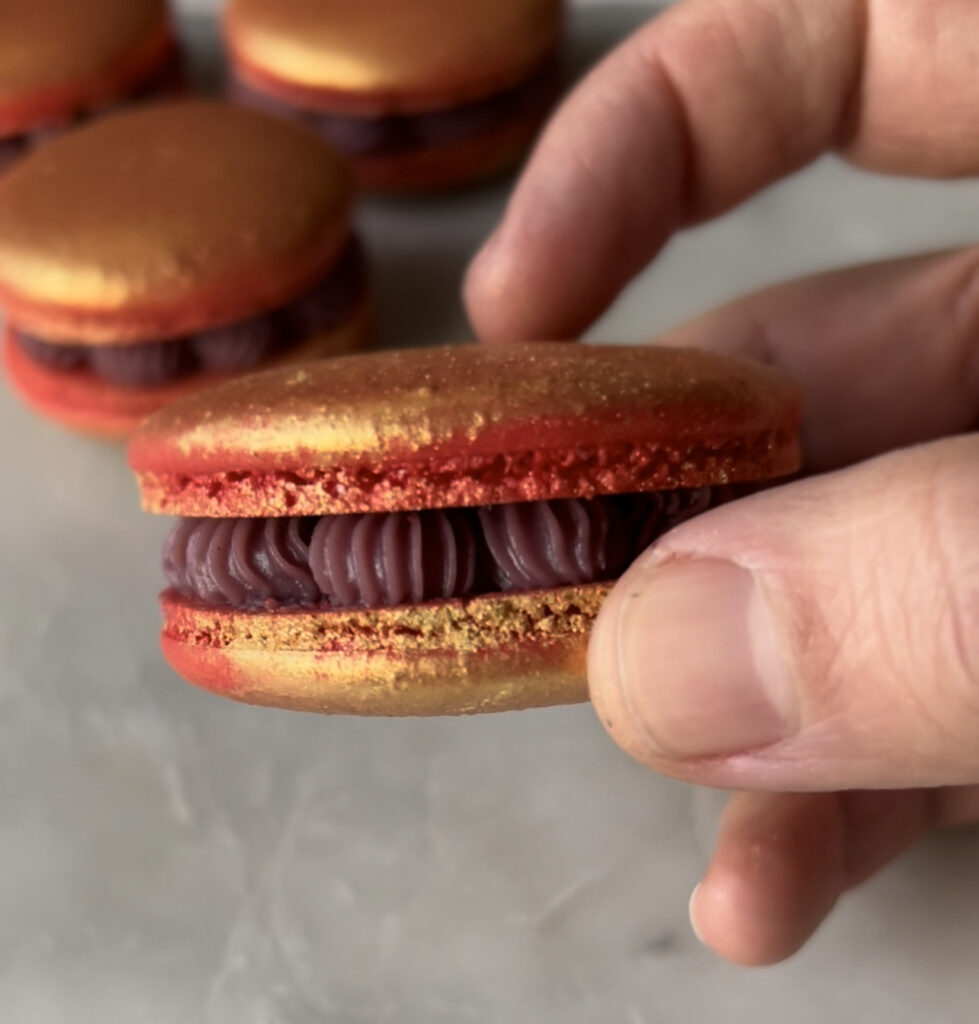 What is Whipped Ganache?
Ganache is a fat and water emulsion that is mix with equal parts of chocolate to heavy cream. Where a whipped ganache has a higher cream ratio to the chocolate. I then added in some gelatin to help it stabilize even more.
Whipped ganache is a lot more fluffy and offers a creamier texture compared to a classic ganache. That is why I was so excited to fill our macarons with this incredible whipped ganache.
What is Ruby Chocolate?
Ruby chocolate by Callebaut is one delicious chocolate that offers a light pink color that lures you in. The ruby chocolate is similar to a white chocolate but I find it is less sweet than a traditional white chocolate and offers a fruity component to it.
Is it just pink colored chocolate?
Ruby chocolate is made from unfermented red cocoa beans, so it has a beautiful pink color that is made naturally and not from adding food coloring to it.
Ingredients Needed
Egg Whites
Granulated Sugar
Powdered Egg Whites
Powdered Sugar
Almond Flour
Heavy Cream
Inverted Sugar
Pinch of Salt
Ruby Chocolate from Callebaut
Gelatin Sheets
How to Make the Macarons and Ruby Ganache
Full steps and directions on how to make these macarons with ruby whipped ganache is in the printable recipe card at the bottom of the post. This is a quick walk-through.
Step 1: Start by preheating the oven, and then cleaning your baking trays, bowls, etc. You will wipe them down with vinegar. Then weigh all ingredients as listed.
Step 2: In a stand mixer with a whisk you will whip your egg whites on medium speed until they are foamy/frothy.
Step 3: Now you will slowly add in the granulated sugar/powdered egg mixture. Continue mixing on the medium speed until you create glossy stiff peaks.
Step 4: Add your meringue to the flour mixture, and then add in the food coloring. Gently fold to incorporate the ingredients. You want the batter to become gloss and fall off the spatula like a ribbon.
Step 5: Pour the filling in a pastry bag and then pipe onto the tray with the silicone mat or parchment paper.
Step 6: let the piped macarons rest to create the film, and then bake as directed.
Step 7: Let the macarons cool before you remove from the baking surface.
Step 8: Place your gelatin in cold water to allow it to bloom.
Step 9: Now bring heavy cream to a light bowl and add in the inverted sugar and salt.
Step 10: Add in the chocolate and let it sit for a minute. Then slowly add in the bloomed gelatin.
Step 11: Emulsify the mixture, and then allow it to cool to room temperature and place in the fridge for 8 hours to overnight.
Step 12: Next when the time comes pipe the ganache on one side of the macaron shell. Then sandwich the filling.
Helpful Tips For Success
If your almond flour is not super fine, you will find you need to use a food processor to pulse it. Do short pulses to get the flour a bit more fine.
Sift the almond flour and powdered sugar two times before you mix into the macaron batter.
Make sure to allow a skin to form on the macarons on the baking sheet. Depending on the humidity and altitude the time varies. But you can aim for around 15-18 minutes.
Make sure to allow the gelatin sheets to bloom in ice cold water. This is needed to help thicken up the whipped ganache.
How to Store Macarons
Refrigerate: Use an airtight container to store your macarons. You will want to store them in the fridge, and be eaten within 48 hours of being filled.
Freezing: You can freeze any of the macarons you don't plan to eat right away. Place in a freezer friendly container and freeze for up to 8 weeks. Thaw in the fridge overnight before you eat them.
Common Questions Asked

What is inverted sugar?
Inverted sugar is a glucose syrup or a light corn syrup. This is a table sugar that is paired with water to make a sweetened liquid sweetener.
What if I can't find ruby chocolate?

If you can't find ruby chocolate you are welcome to swap with a white chocolate. It is of course going to alter the flavor of the macarons but it can be used in replace.
Why are my macarons lopsided?
Some bakers find that they have to rotate their macarons half way through the baking process. Depending on your oven, the cooking process varies a bit.
Recipes To Try Out
Printable Recipe Card
Macaron with Ruby Ganache
A beautiful decorate macaron shell that is then filled with this thick and velvety smooth ruby whipped ganache and a delicious gold topped macaron.
Ingredients
100

g

egg whites

90

g

granulated sugar

4

g

powdered egg whites

130

g

powdered sugar

130

g

almond flour
Ruby whipped ganache recipe
250

g

heavy cream

25

g

inverted sugar [e.g glucose syrup

light corn syrup]

Pinch

of salt

65

g

part of Ruby chocolate from Callebaut

2

gelatin sheets

bloomed in cold water
Instructions
Mise-en-place:
Pre-heat oven to 300F

Wipe with vinegar the silicon mats, bowls and baking trays. Print templates if using.

Weight all the ingredients in separate bowls

The egg whites can be directly taken from the fridge and do not require aging.
Prepare dry ingredients:
Add egg white powder to the bowl containing the granulated sugar and mix well.

If the almond flour is not super fine, I recommend doing 2-3 pulses in a food processor. Only do this for short amounts of time.

Sift the almond flour and powdered sugar. Do this two times.

Note: keep all the containers covered with lids.
Prepare the French Meringue:
In the bowl of a stand mixer fitted with a whisk, whip egg whites on medium speed until foamy/frothy.

Gradually add the granulated sugar/ powdered egg white mixture, continue whipping on medium speed until glossy stiff peaks
Macaronage:
Add half of the meringue to the almond flour / powdered sugar mixture.

Add gel food coloring

Fold gently with a spatula until the dry ingredients are incorporated

Add the remaining meringue

Fold gently until the batter becomes glossy and falls off the spatula like ribbons.
Piping:
Fit a round tip (e.g., Wilton 12) in a pastry bag, place the bag inside a tall measuring cup or a deli container, wrap the bag in the edges of the cup to keep it open

Pour the macaron batter into the pastry, remove from the cup

Pipe circles onto the tray with silicon mat or pre-printed template under a piece of parchment
Resting and baking:
Let the piped macarons rest on the kitchen counter until a skin is developed, you will be able to gently touch them without batter sticking to the fingers.

Once the skin is formed, place inside the oven, bake at 275-300F (this will depend on your location and other factors like humidity) for 15-18min.

Use an oven thermometer to make sure the oven is not too hot.

Place gelatin sheets in ice cold water

Bring heavy cream to a light boil. Add inverted sugar and salt.

Pour over chocolate, let sit for 1 min

Add bloomed gelatin when the temperature of the mixture is lower than 150F/65C.

Stir gently with a spatula first then emulsify with an immersion blender, avoid adding too much air/bubbles.

Cover with plastic wrap, let cool to room temperature and place in the fridge for at least 8hr to set. Best to do overnight.

Remove from the fridge and place in the bowl of a stand mixer, whip with a whisk attachment, do this at a low setting until smooth and fluffy, be careful to no overwhip or the ganache could break.
Filling macarons:
Fit a small tip, I recommend tips like 4B, 1M for nice piping designs, inside a pastry bag. Place inside a tall measuring cup or deli container.

Pour the ganache inside the bag

Take 1 macaron shell, pipe the ganache in the center

Take another macaron shell and sandwich the filling. The best ratio of macaron to filling is 2:1

Let the macarons cool before removing from the baking surface