Hello friends, today I am here to tell you the step-by-step process to make this lovely macaron Christmas tree! This is a showstopper and perfect as a table centerpiece!
I offer a free template that you can download and place under your mat or parchment paper to make your own Macaron Christmas tree!
The macaron trees are filled with a spiced cardamom, ginger, and cinnamon ermine buttercream.
MACARON CHRISTMAS TREE TEMPLATE
Here is the Macaron Christmas tree template, you can download for free, place under your baking mat or parchment paper, and pipe the panels.
The tree is assembled using five star-shaped panels of decreasing size that are stacked with a buttercream filling. However, if you do not feel ready to pipe stars yet, I am also providing a template for rounds. 
Grab the template for the Christmas Tree Meringues here:
HOW TO PIPE THE MACARON BATTER
Making these trees is fun, but can be a little bit of work, because you are working with shapes that always take longer.
Prepare your macaron batter to the normal consistency, which is determined by the batter flowing off the spatula like a ribbon.
Place the batter in a piping bag fitted with a piping tip. I recommend using small circle tips, like Wilton 10 or 12.
Start piping from the outer tips of the stars toward the center, try to pipe less amount of batter once you are near the center of the star. This may take a little bit of practice to do, but since you'll be stacking the stars, they do not need to be perfectly shaped.
You will be piping five different sizes of stars; I recommend starting with the bigger ones as they are easier to pipe.
Once you pipe each star you can smooth it by using either a toothpick or a scribe tool. Just gently move the batter around to fill any gaps, for example. For stars you want to make sure that the tips have enough batter, otherwise they won't form feet during baking.
After you finish piping the stars let them rest until a skin forms. Shaped macarons always have to rest before baking in my experience, or they crack when you bake them.
Once the macarons are done baking, let them cool completely before assembling the tree
HOW TO ASSEMBLE THE MACARON CHRISTMAS TREE:
For the filling I used ermine buttercream infused with ginger, cardamom, and cinnamon. These spices give me holiday vibes. The amount of spices in the recipe are just a guide, feel free to adjust these to your own taste.
I decided to use this buttercream because it is perfect to add such flavors and is also very easy to make. Read my detailed post on Ermine buttercream.
Take two small portions of your batch of buttercream and place into individual bowls. I colored one in red and the other in blue by using gel food colorants. You will be using these to add decorating details to the trees.
Put your larger amount of ermine buttercream inside a piping bag fitted with a star tip, I like using the Wilton 4B for this. Place the other two smaller amounts of buttercream in individual piping bags with smaller star tips or circles.
You can assemble the tree directly on a serving plate of your choice or on small cardboards. I like using 3.5 inches in diameter cardboards, so the tree is easily moved if needed. I got these from Amazon.
Start assembling the tree by using the larger macaron. Pipe a dollop of buttercream on either the plate or the cardboard and place the larger star on top. Pipe the buttercream on a 45 degrees angle from the outer part of the tip toward the center.
Do this for all the five tips in the star. Then, place the star that is closer on size on top. Repeat the process until you have stacked 4 stars.
For the last star I like piping the buttercream on a circular fashion.
Add details on the sides of the tree with the colored buttercreams. Finish assembling the tree by piping buttercream on top and adding a large nonpareil sprinkle, or any decoration of your choice!
Enjoy these trees with your family and friends! Happy Holidays.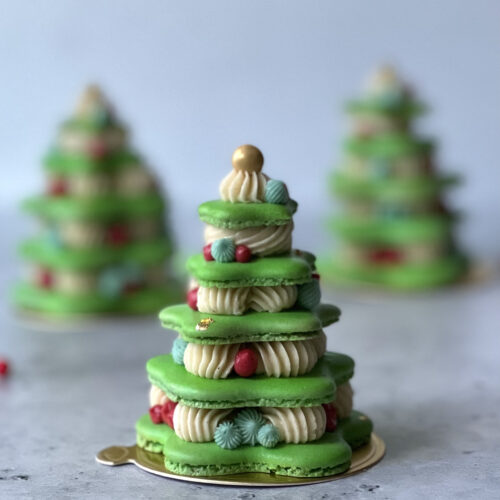 Spiced Ermine Buttercream Recipe
Spiced Ermine Buttercream is a delicious and creamy buttercream frosting. Made with dried cardamon, ginger, and more. Pair with this tree shaped macaron.
Equipment
Mixer, bowls and paddle attachment

Small saucepan

Scale

Small bowls: 2

Measuring spoons: 2

Medium bowl: 2

Rubber spatula: 1

Plastic wrap

Piping tips (small and medium start tips)

Piping bag
Ingredients
150

g

whole milk

150

g

granulated sugar

150

g

unsalted butter

softened

Dried powder cardamom

½ tsp

Dried ginger

¼ tsp

Cinnamon

1 stick

15

g

cornstarch
Instructions
Make your Macaron Batter and shape as directed.

In a small saucepan, heat milk to a gentle boil with the spices. Turn off the heat and let infuse for 10 -15 minutes.

Add a little bit of cold water to the cornstarch to make a slurry.

Remove the cinnamon stick.

Heat back the milk, add sugar, salt, and mix well. Slowly add the cornstarch slurry while mixing, whisk until smooth.

Bring to a boil, it should thicken, strain into the bowl of a mixer and chill completely to room temperature.

Beat mixture with paddle attachment until smooth.

Gradually incorporate butter until smooth and emulsified.

Separate into bowls and add food coloring of interest.